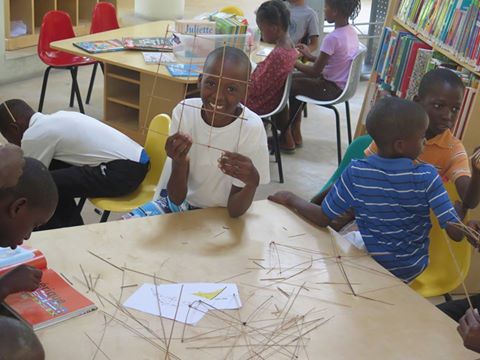 On January 20, 2016, the library of the Katherine Dunham Cultural Centre celebrated its first year of existence. For a year, this new center of knowledge has served Martissant, a disadvantaged neighborhood of the southern suburbs of Port-au-Prince. It is frequented by many young students, professionals and students seeking knowledge.
The library was opened to the public on January 20, 2015. It had at the time around 4,500 titles in a space to accommodate 130 people. Today its collection numbers over 7000 books available for on-site consultation or loan.
The library is laid out in three areas: a space for adults, a space for children and an area for teenagers. It is managed by free PMB software. A media room with a dozen computers connected to the internet helps fill the users' navigation needs. An enthusiastic staff, led by the director of the KDCC, Islande Batiste, is dedicated to the service the members of this haven of knowledge.
A positive report
During this first year, the KDCC received 18,230 people of whom 43% were visitors not yet enrolled in the library. During this time, the center has offered its members a rich diversity of activities such as discussions of works of authors, exhibitions, periodic meetings with authors, film screenings, lectures, and more. Every two months, readers, friends of the Centre and schoolchildren from the area are invited to meet an author through his work and his career.
The KDCC, also hosted rendezvous, such as the talks by Native writers from the communities of Quebec as part of Native American Nights. On the occasion of FOKAL's twentieth anniversary celebrations, writer Edwidge Danticat attended a talk in which she answered readers' questions about her work and her career. In October, the writer-adventurer Jean Yves Loude came to present his book "Prince des fatras" a novel that has as backdrop young lives in Cité Soleil.
Programming accessible to our readers
The activities of KDCC are intended for both young and old. The library's collection considers and responds to requests and wishes of readers - especially university students who revolve around the center, children, adolescents and young adults - for whom special areas have been created.
On special occasions, the center has offered one-time events. For example, children 9 to 13 years from some schools in the area participated in animated discussion workshops by members of the center's staff on the occasion of world and international days of non-violence and tolerance.
Parallel to reading activities, the center screened every other Thursday, a film or a documentary for young people, " Martissant le rêve d'habiter" "Le Truman show, '' Haïti, le chemin de la liberté ", " Dans l'ombre de Marie," " La promesse de Walt Disney, " " Un haïtien à Paris "," Largo Winch "," Matilda " were viewed by regular users.
Towards a 2016 full of promise
«The past year was successful but for the staff of the center there is still much to do and to offer young people of the Martissant neighborhood», said Baptiste Islande.
Library technicians will try to better serve young people in 2016. For 2016, the plan has already been put into action. «The institution's doors were open to schools in the area for a week to allow students who do not know the center to discover it. Nearly 800 young people were able to visit the centre, » Islande said. The KDCC will bring books to schools and send some of its collections to universities and vocational schools in the Martissant and Carrefour areas. It was noticed that some participants in the entrance examination for UEH (University of Haiti) sought the help of some members of our staff. Therefore, a support unit for future university students is nearly set up to better prepare in mathematics and French. This year the KDCC, in addition to its regular schedule of meetings and talks, is also developing into a training and personal development space, where young people will feel well supported, supervised, and valued. Reflection workshops on family violence and other topics, as well as training in games such as checkers, chess, are being set up to support them.
All these are initiatives that allow the KDCC, and its library section in particular, to respond to the need for information, culture, documentation and training for residents of Martissant, Fontamara and surrounding areas. Along with the magnificent medicinal garden with spaces for activities for children and young people, which overlooks the library, the KDCC has confirmed its status as a reference space for young people from these areas.
The management of FOKAL, the library staff and staff of Martissant Park, invite all friends of books to visit the library and become a registered member. For more information, call 2811-2112 or visit Martissant Park, Martissant 23. It is also possible to subscribe to the center's Facebook page to stay up to date on its activities.