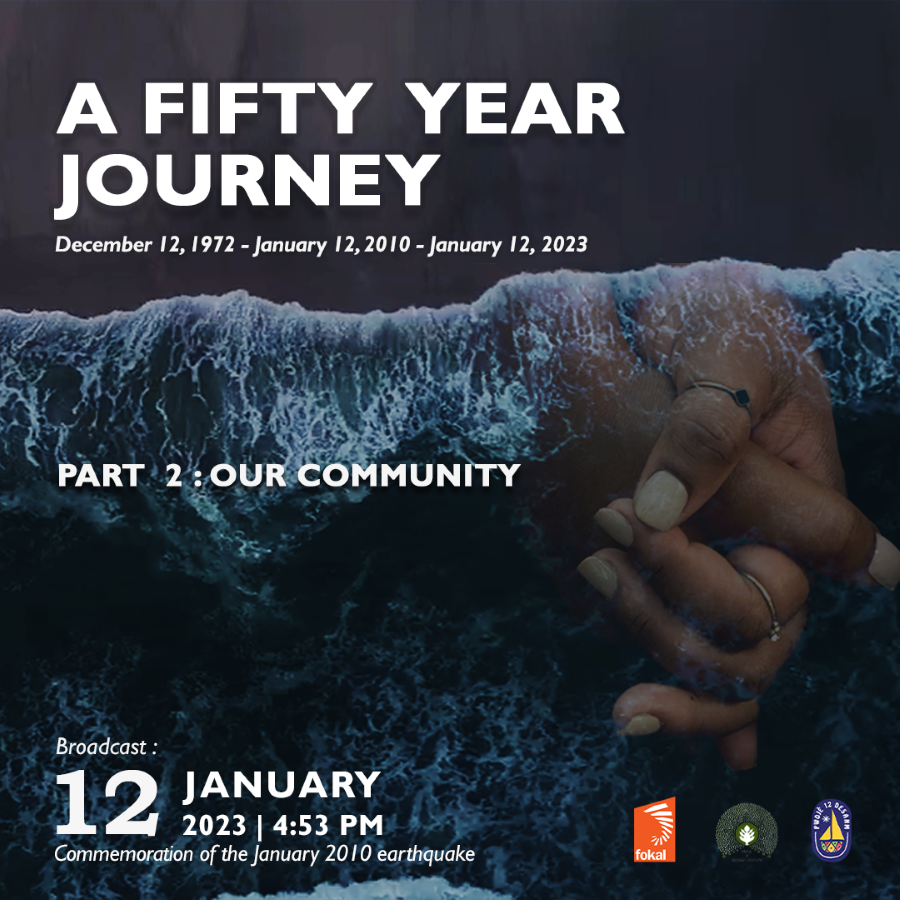 December 12, 1972 – January 12, 2010 – January 12, 2023
A series of two special online programs to commemorate the twelfth anniversary of the January 12, 2010 earthquake and the fiftieth anniversary of the first boatload of Haitian refugees that arrived on the Florida coast
Part two
OUR COMMUNITIES
BROADCAST JANUARY 12, 2023
4 H 53 PM
On January 12, 2010, an earthquake of magnitude 7.1 devastated our country, killing hundreds of thousands. Since this tragedy, every year FOKAL commemorates the earthquake of January 12, 2010.
On December 12, 1972, the first boatload of Haitian refugees fleeing the persecution and extreme conditions of the U.S.-backed Duvalier regime arrived on the Florida coast. Since December 12, 2022, and throughout 2023, the Haitian diaspora in the United States commemorates this first arrival, which marks the beginning of 50 years of crossings, tragedies but also resistance, solidarity, and new departures for more than one million Haitian immigrants currently living in the United States.
On the occasion of this double commemoration, FOKAL will broadcast on January 12, 2023, at 4:53 pm a special program, entitled "Our Communities". This program is the second part of the program entitled "A Fifty-Year Journey". Like the first one, this program alternates songs and texts to punctuate a conversation between personalities living in Haiti and in the diaspora, in the presence of an audience of student members of debate clubs and artists.
This second program evokes the struggles and the path taken by all Haitians emigrated to Florida to become a strong community. It evokes among other things the problems that our communities face, the sometimes complex relationships between Haitians and their families in the diaspora, the problems of youth here and there... Its primary objective is to establish a permanent dialogue between Haiti and its diaspora, to open avenues to work differently, to seek solutions together, and to carry a word of hope.
Edwidge Danticat, writer, Santra Denis, director of the Avanse Ansanm association in Miami, Eliézer Guérismé, artistic director of the Festival En Lisant, Gepsie Metellus, director of SANT LA, Haiti Neighborhood Center in Miami, Lorraine Mangonès, director of FOKAL and Michèle Pierre-Louis, president of FOKAL, participate in this conversation recorded on the virtual platform ZOOM.
Texts and songs are interpreted by Staloff Tropfort and Miracson Saint-val for the texts, and for the songs, by the choristers of KORAL FOKAL directed by Daphné Ménard, as well as by the singers Néhémie Bastien, ans the singers Charline Jean Gilles, Vanessa Jeudi, accompanied by the musicians Josué Alexis at the piano, David Casséus at the bass, Emmanuel Jean Baptiste at the drums, Francisco Sardau Lafrance at the percussion instruments, and Kerby Jimmy Toussaint at the guitar.
The program was produced by Michèle Lemoine, from an original idea by Lorraine Mangonès, in collaboration with Gary Lubin for the artistic direction, Réginald Louissaint Junior for the direction of the photography and the editing of the songs, and Laurence Magloire, Mwèm TV, for the recording and editing of the conversation.
The show can be followed on FOKAL's Facebook and Instagram pages and Youtube channel and will be relayed simultaneously on the Facebook pages of many partners.