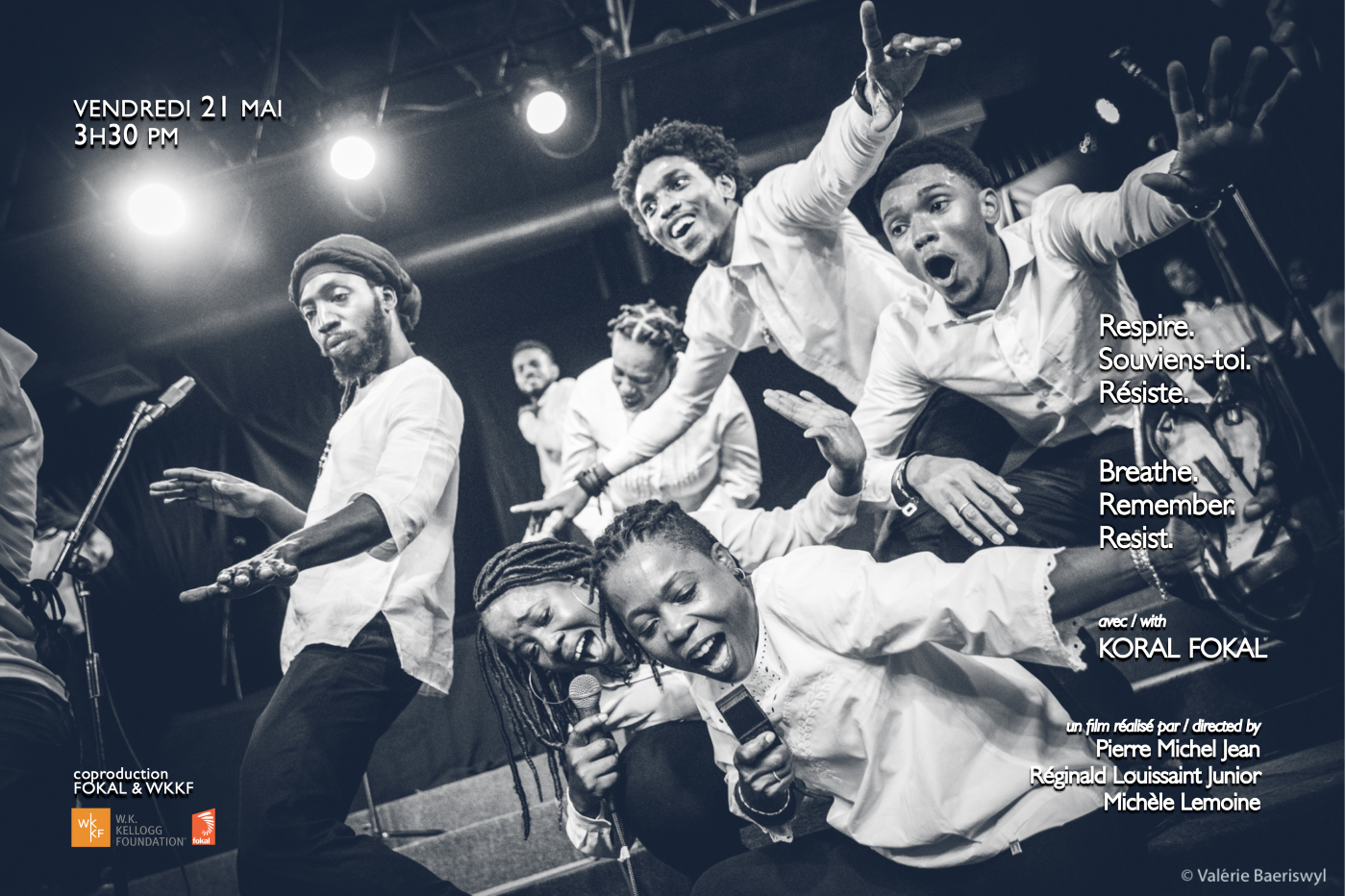 a music documentary with KORAL FOKAL.
directed by Pierre-Michel Jean, Réginald Louissaint Junior and Michèle Lemoine on a proposal by Lorraine Mangonès
On Friday, June 21, at 3:30 p.m., Fokal will broadcast on its YouTube, Facebook and Instagram networks, and on its partners' pages, the music documentary "Breathe. Remember. Resist." co-produced by the Fokal Foundation and Fokal partner, W.K. Kellogg Foundation.
This film is being shown as part of "Konbit for the children", a meeting of the Haiti Peer Learning Network (HPLN), a community of W.K. Kellogg Foundation (WKKF) grantees and partners in Haiti. This network was created to facilitate and promote collaboration among its members with the shared goal of improving the lives of Haitian children and their families.
The W.K. Kellogg Foundation (WKKF) chose the word "Konbit" to reflect the network members' long journey for education, family economic security, health, equitable living conditions and community leadership. This major event will reinforce this overall approach by bringing together participants from various communities and sectors for four days of exchange, sharing and innovation. We begin on May 18 with a commemoration of Haitian Flag Day and a celebration of Haitian culture and history for their role in our collective effort toward a better future.
The music documentary "Breathe. Remember. Resist" is a fair and powerful greeting that attempts to inspire us to move forward in the work needed for the sake of Haiti's children.
The film is dedicated to the work of Koral Fokal, which is above all a commitment to our country and the world. It features nine of the choir's main songs, recorded live by the chorus under the direction of choral director Daphné Ménard, assisted by Kenley François. The film was shot in different locations in Port-au-Prince by the team of Pierre Michel Jean and Réginald Louissaint Junior.
He invites us to a journey from song to song, traditional, contemporary, international, all written by committed and militant artists. This musical journey is punctuated by interviews with members of Koral Fokal on their relationship with the choir, on the dark times we live in from our distant past to today, and on the refusal to give up in order to transform our present and build our future together.
We publish below the text of Miracson Saint-val, director, comedian, and member of KORAL FOKAL, who evokes the spirit of the choir and memories of the shooting.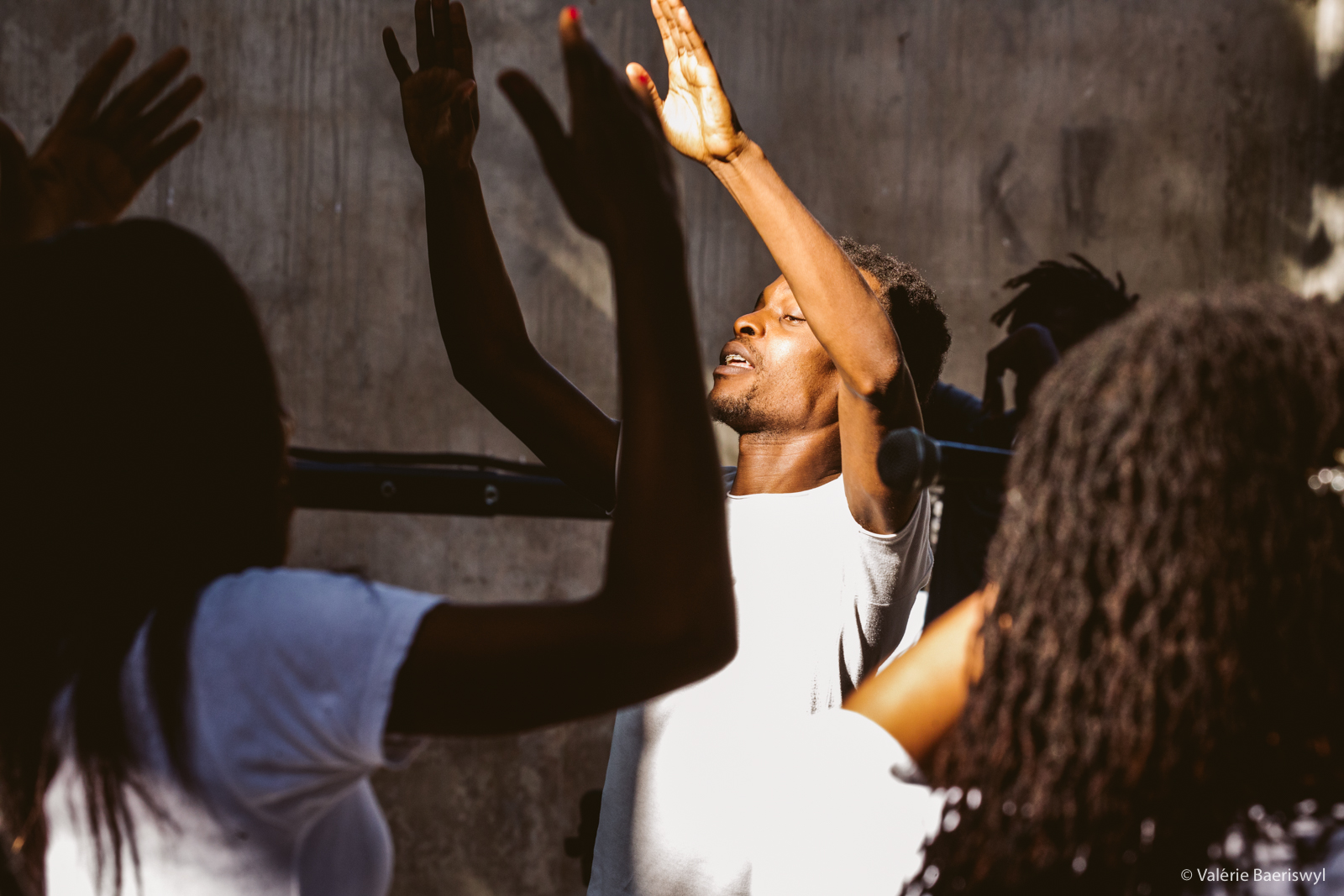 It's been a long time since we sang...
It's been a long time since we sang together... Covid, insecurity: a country where our lives hang by a thread. Kidnapping has become an insatiable scourge that consumes our existence. A country where the life span is, today, of 24 hours, renewable. Every day has its quota of kidnappings, rapes, massacres, violence, everywhere. Every day has its own frustrations, no money, no job, fear in the stomach. What remains is the promise we made to ourselves not to be indifferent to violence. And during all this time of work, from April 8 to May 5, singing was our weapon of combat.
I remember that day at House Dufort, when, under a sun without compassion, while our voices were exhausted, then refilled in the eyes of the comrade next door to sing "Ain't got no... I got life", the black smoke of burning tires rose up, close to us, testifying to the upheavals in the street. And also all the days when we literally have to escape from home to come and sing...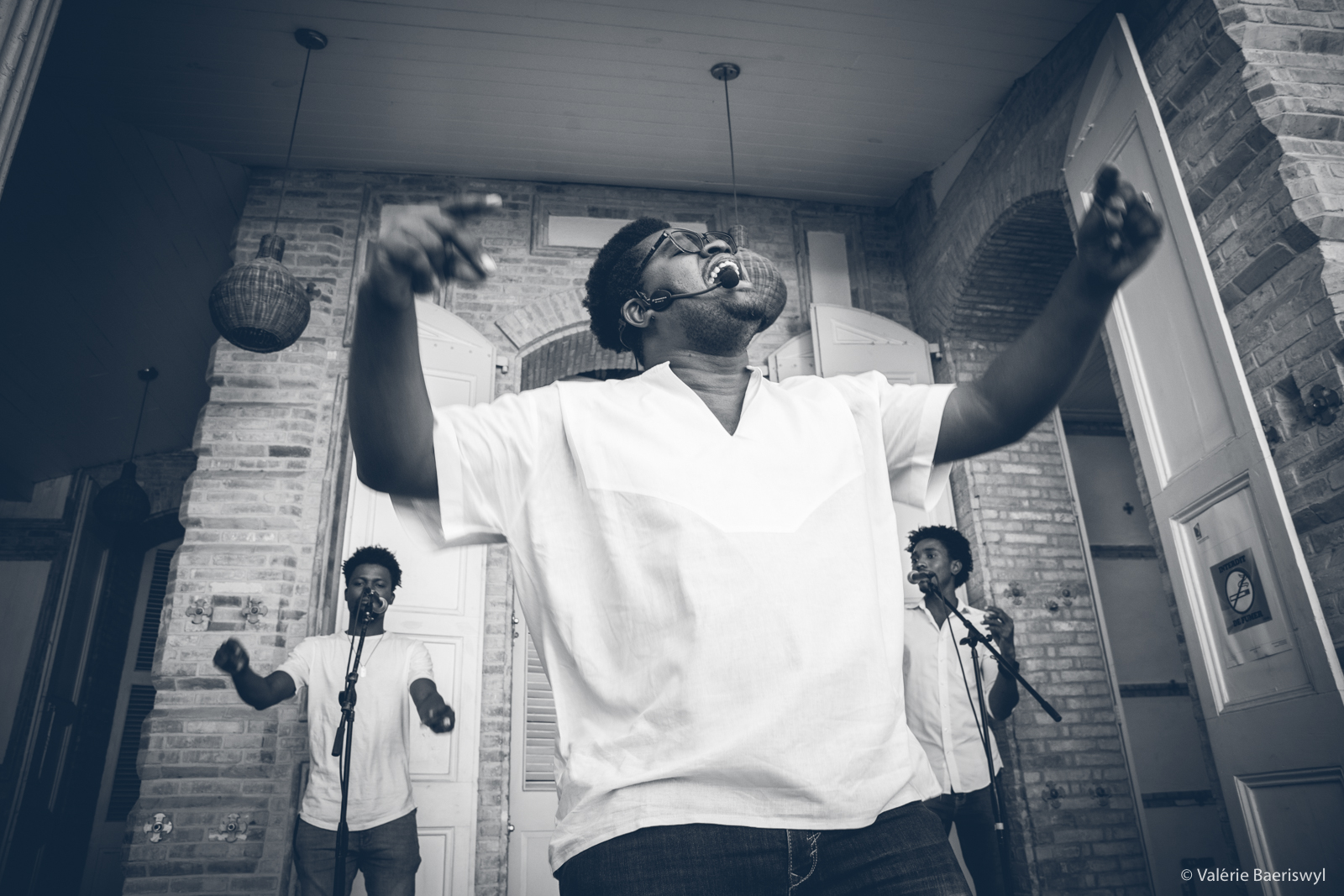 We have transgressed the rules imposed by the gangs that decide on our right to pass through. This disobedience was saving. We simply had to let ourselves be surprised and contaminated by Balta's bursting laughter. A laughter of letting go, to answer to all these men who set themselves up as decision makers of our tomorrows. All these voices together, not only to sing, but also and above all to claim a life where fear is not the master of our decisions.
Sing to exist!
To the catchy rhythm of "Lage l'" (Let it go), our dance steps and our hands without taboo revive our flames to demand a right to better living in this country.
During the rehearsals, we celebrate birthdays, moments of great beauty, a surprise every time. I am writing this text while still thinking that mine arrived just after the end of the shooting. Oh, how I would have danced if only! I would have danced like Michèle after the shooting, like Staloff who always improvises something new, like Elizabeth always in a good mood. I would have asked the choir to sing "Freedom" for my birthday. Like a bouquet of life, "Oh Freedom", where the voice of the Maestro, Daphné, emerges from her body like a revelation.
Between all these women who demand to be finely made up and these men who want to keep the warmth of everyday life, there is Gary: the one who steps aside without being absent to ensure the smooth running of the business.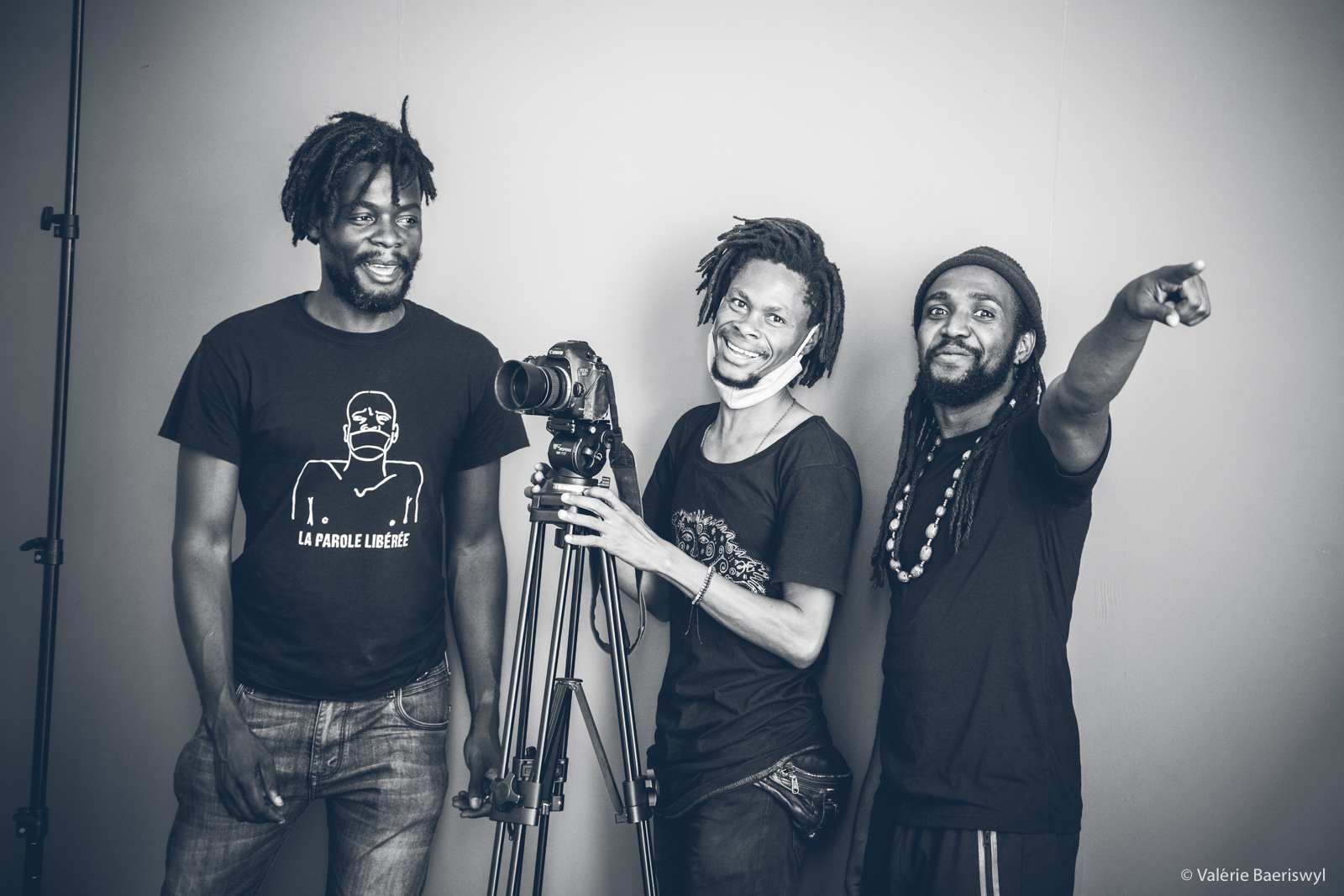 The shooting is exhausting: one more shot..., ask our directors every day, who seem to wake up every morning with the will to perfect the world with our images. Only the shots on the street give us comfort, because they are always the last ones.
And yet, when it all ends, you should see us, renewed at once, ready to start all over again if necessary.
The choir reveals us to ourselves and to others.
You just have to see Esther on the day of the shooting, leading a whole choir to the rhythm of her hands, of her whole body, letting herself be penetrated by the song "Èzili malad" (Èzili is sick).
These intense days were filled with dreams of star, of stages, of tours. We had to travel the world with our voices and our fantasies...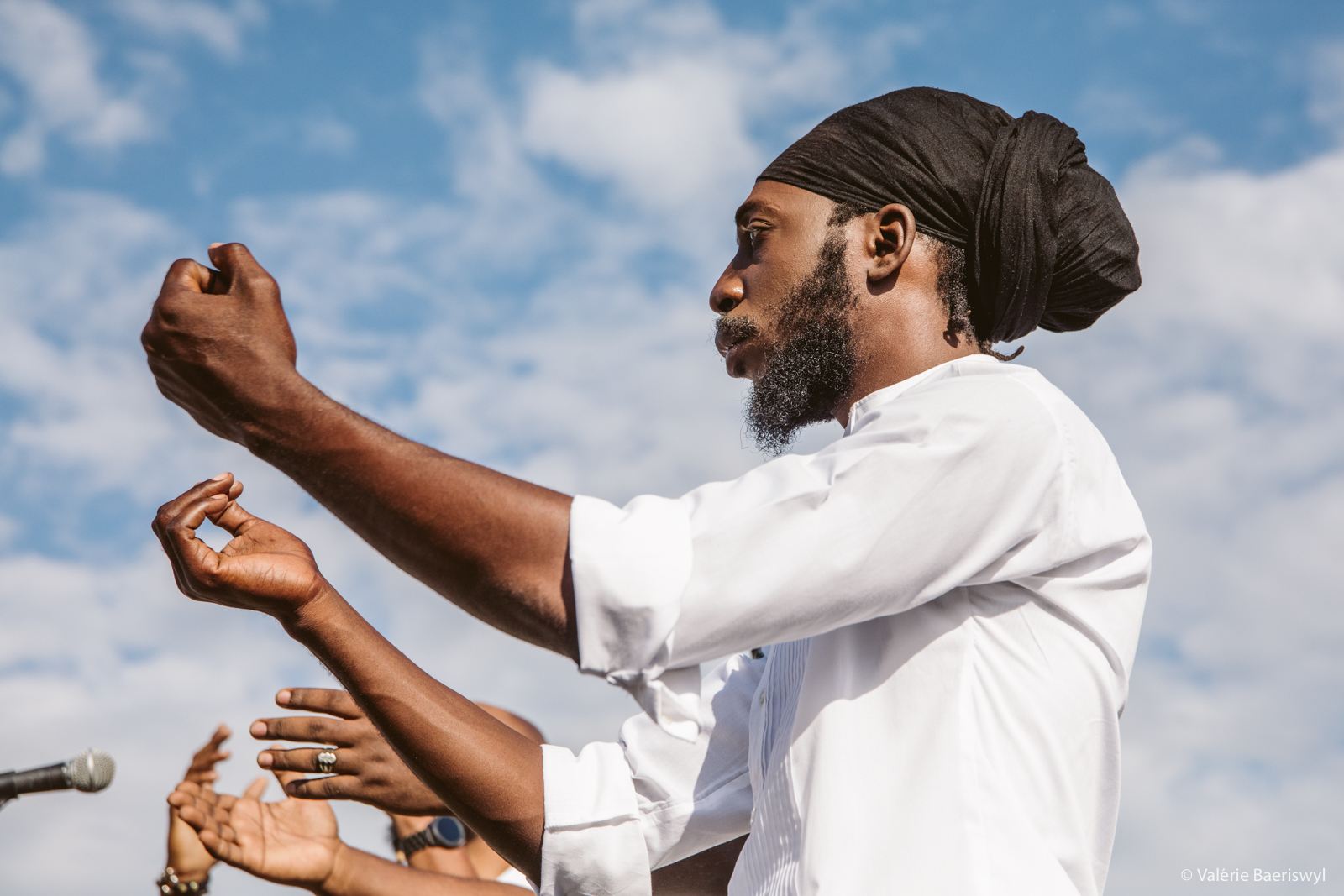 Under Michèle's, Daphné's and Kenley's direction, the choir seeks above all the sincerity of each song. It demands from each chorister a body that claims its freedom; a body on its war footing, which assumes each song as a victory against the stupidity of the world.
text by Miracson Saint-val
photos by Valérie Baeriswyl